The coronavirus tests of tigers that live in Miami Zoo have proven to be negative. The analyses of the Sumatran tigers which reside inside Florida zoo were conducted after they had shown signs that they might be affected by Covid-19.
The zoo spokesperson Ron Magill said that the tigers showed symptoms like nasal discharge, fatigue, and loss of desire for food.
Tests were conducted under immense caution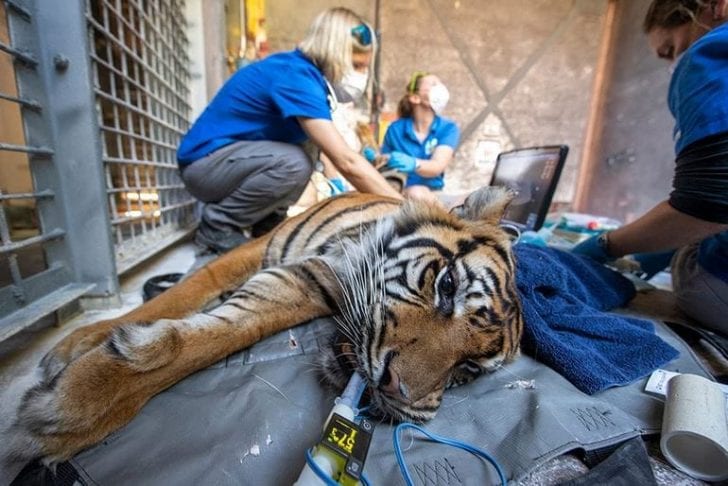 Authorities from the zoo also said that the tests were done under immense caution while keeping in mind that the shown symptoms could be a result of numerous other conditions.
The zoo administration got panicked when the tigers showed these symptoms because several tigers that are being administered at the Bronx Zoo had similar symptoms and are now sick with Coronavirus. The tests comprised of nasal, throat, eye, and rectal swabs.
The signs were real, but the sickness was not
Although the result of the tests has proven that the tigers are not infected with Covid-19, it is yet unclear what made the tigers exhibit the same behavior.
A press release noted by the zoo said that the animal team illustrated that the behavior exhibited by the tigers could be due to allergies or a common cold. In the previous month, numerous tigers that are kept in the Bronx Zoo have been tested and found positive for Coronavirus.
An infected worker caused the spread
A 4-year-old tiger from Malaysia named Nadia was put to the test by the USDA'S national veterinary services, including six other tigers. The WCS news release reported that all of the tigers inside the zoo had developed a dry cough.
All of the tigers were sedated before the veterinary service workers tested them.  The zoo reports that all of the cats were infected by a zoo caretaker who had developed symptoms while taking care of the animals.
Bronx Zoo cats are expected to make a full recovery
The zoo has reported that all the tigers are now off to a full recovery, but the zoo is closed till further notice. In another press release, zoo authorities have said that all the tigers are acting normally, eating their regular diet, and as far as their health is concerned, their cough is magnanimously reduced.
According to Paul Calle, who works as a chief veterinarian at the zoo, the cats were seriously ill and showed the symptoms similar to that of COVID-19. But as time is passing, all of them are showing improvement and are getting healthier by each passing day.